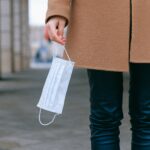 A Changing Scene
As mask mandates lift and positive Covid-19 cases and deaths continue to go down we hear whispers of the word "endemic". "I just want things to go back to normal" is a phrase we've been using since those first days of lock down, and here in the Boston area it seems to be heading that way. After two years of anxiety, stress, isolation, over-stimulation, and uncertainty, we want out! We want our old lives back! As much as we crave the "normal", let's keep in mind how living through such trying times reverberates even after the masks come off. The past couple of years have brought forth great strength and resilience, but now is also a time to be watchful. There's a good chance these Covid years have left many of us with unprocessed experiences and trauma. Trauma is a normal response to terrible events like what we've been living through like experiencing isolation and the threats to our very lives and way of life. In these past two years you might have worked through the threats to your physical or emotional well-being, or you might have gotten stuck in patterns that helped you get through these trying times but are no longer useful.
Here are 9 ways to encourage resolution to the affects of trauma in year 3 of Covid:
1. Remind yourself: everyone is responding in their own way, on their own time.
Some people are elated and carefree right now while others, those who are immunocompromised come to mind, are hesitant. Everyone is going to emerge from these last two years at their own pace. It is helpful for our own sanity to not push people who are taking more time to say, eat in a restaurant, nor is it helpful to vilify those moving faster than you.
2. Be aware of your emotions.
Be ready for your feelings to surprise you. You might have a lot of "shoulds" coming up, such as I "should" feel better now that Covid numbers are down. You might find yourself being especially jealous or resentful of people living a full, seemingly care-free life. You might have expected to not feel jealous anymore now that you too can freely attend a concert with less worry. Watch for these emotions, write them down, share them with someone you trust. Watch for the pleasure too! It might be harder to find the joyful moments, and highlighting the delights will also strengthen them. Delight in hugging that friend you haven't seen in forever. (Maybe shed a few happy tears too.)
3. Be in community
.
While we can do great work alone, there is nothing like the healing power of being embodied in a shared experience. If you haven't already, make plans to be in person with a group of people who are your people, who share your values whether that be a love of art, share the same faith, or enjoy the same food. 
4. Look for ways to be a helper.
If you are in a place to help, the benefits of contributing to humanity or your community can have positive affects. Contribute to nonprofits with your dollars or time, help a neighbor who has long Covid, or reach out to a friend who isn't feeling great emotionally. This does not have to be big, but simply assess what you have to help and be open to how you can give back.
5. Give yourself permission to need and want.
The pandemic turned our world upside down, and we are living a dramatically different landscape across not only our health but also our political, work, education and social spaces. Ask yourself, is there something you are missing that you just didn't get in the past two plus years? Is there a place you've been yearning to go, a person you've been missing dearly? As an introvert, I have been way overstimulated being constantly at home with a husband and 2 kids. Even when both kids went back to school in September 2021, I couldn't shake a low level of hypervigilance from all that time with people, even the ones I love most. Last month I was fortunate to go to a yoga retreat center by myself and it was exactly what I needed. I wrung out my body in yoga poses, cried, hiked, stretched and relaxed in a way I just couldn't for 2 years. (I also got to be in community with "my kind of people", even though they were stranger, see #3 above.)
What is that your very being is calling for?
6. Expect set-backs.
In our home, we had been feeling pretty good and fortunate about where we were with Covid. All the adults in our house are vaccinated and boosted, the kids got vaccinated. We'd been in a regular routine where everyone could go to school, work and activities! It felt so good!
Then BOOM, a couple weeks ago one kiddo got Covid and the dominos fell: our kiddo was home for 4 days, work was interrupted, and then my husband and I tested positive for Covid as well. As a family we had some choices: we could wallow in complaints of how our routine was interrupted and how crappy Covid made us feel (I mean we were feeling some feelings, and yes we had people to vent to), but then we moved into accepting the set-backs and coping with the circumstances. It was not the month of March we hoped for, but we concentrated on what we had to bend to in the moment rather than get lost in what we wish hadn't happened. 
Take a look at how you respond to set-backs; what skills can you use when your schedule gets interrupted or you get sick?
7. Make a list of what you have gained or maintained over pandemic life so far.
While being sensitive to any great losses over Covid (loved-ones, learning and social gaps for children, jobs) try to identify what you are grateful for over the past two years. I am deeply grateful that technology existed for therapy to move fairly easily online for those with computer and internet access. While internet connection has been an issue at times, I've been incredibly impressed with my clients for making the switch. I am also grateful for friends who reached out and showed up if my life, buying flour and yeast for each other, sharing a last batch of toilet paper. Get out a piece of paper and make a Covid Gratitude List and just keep writing until you can't think of anything else to add.
8. Move your body.
My hips ache like they never have before. I could chalk it up to aging, but I know decreased mobility is the driving force of my discomfort. If you are feeling less mobile, your pants feel tighter, or your feeling general malaise, right now get up from the devise you are reading on and walk around the room you are in. Now come back and notice how it felt in your body to move. Did your body enjoy the movement, does it want more, is there a pain you didn't notice before? Use the information your body is giving you from when you do move to see what it wants more of. Building movement back into our lives can be a challenge for many, but start small and pay attention to how your body responds. Set a small, measurable goal for yourself, for example building in a short walk 3 days a week.
9. Get professional help.
Many people reached out to therapists during the pandemic, and many more will need therapy to recover for years to come. Do you think about reaching out to a licensed therapist but hesitate? The sooner you address what's coming up for you, whether that's anxiety over socializing, hesitant to travel, or becoming hypervigilant about illness, the sooner you can process and move through whatever is sticking around. Therapy can also help you build better tools to navigate the ongoing uncertainty. 
Podcast recommendation:
For an in depth exploration of what's been happening in the body on a nervous system level check out one of my favorite podcasts on the pandemic, "On Being: What's Happening in Our Nervous Systems?"
Are you feeling like you are suffering the effects of the pandemic?  Do you tell yourself you "should" feel better now that Covid has retreated? Drop me an email or fill out my contact form so we can connect! I am currently accepting new clients who live across Massachusetts, including Boston and the surrounding area such as Allston, Belmont, Brookline, Chestnut Hill, Concord, Jamaica Plain, Lexington, Medford, Melrose, Milton, Newton, Needham, Norwood, Milton, Somerville, Waltham,Watertown, Wellesley, West Roxbury, Westwood and more.